GENERAL CHOI HONG HI
"The Father of Modern Taekwon-Do"
Grandmaster General Choi Hong Hi, known as the "Father of Taekwon-Do" was born on November 9th, 1918, in what is now D.P.R of Korea (North Korea). Although he was a frail and sickly youth, his spirit was strong and independent which led him to be expelled from school at the early age of 12.
Due to his expulsion, his father sent him to study calligraphy under the famous Korean calligrapher and martial artist, Mr. Han II Dong. Han began to teach his new student the ancient Korean martial art called Taek Kyon (foot fighting) as well, in order to build up young Choi's weak body.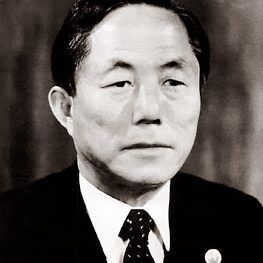 In 1937 he was sent to Japan to further his mental and physical education .While studying, he started practicing Karate, where he earned his second degree back belt. Around the same time, he started teaching martial arts himself at the YMCA in Tokyo, Japan.
General Choi saw a different approach to teaching martial arts. This led him to combine perfected techniques from Korean "Taek Kyon" and Japanese "Karate" to form a modern martial art he named "Taekwon-Do" which interprets as Tae (to kick with the foot), Kwon (to strike with the fist), and Do (art)…"The Art of Kicking and Punching".
General Choi Hong Hi died at the age 83 of cancer on June 15th, 2002 in Pyongyang, North Korea. He taught Taekwon-Do without any regard to race, religion, nationality, or ideology. He dedicated his entire life to the development of Taekwon-Do and will be best known as the "Founder of Modern Taekwon-Do and the first President of the International Taekwon-Do Federation (ITF).